Protect Your Home From Water Damage, Fire Threats, Mould Growth And Add 10+ Years To The Life Of Your Roof With Our Affordable, Premium Roof Restoration Services – Guaranteed.
Increase your property value and protect your home from Melbourne's harshest weather conditions for the next 10 years with our award winning roof restoration services


Discover The Quality Roofing Services You Want, At Prices
You'll Love
The Only Roof Restoration Company in Melbourne with
100% Positive Online Ratings
From the beginning all was professional. After a delay due to Covid-19 work progressed efficiently. Nathan gave us a formal situation report daily. All those I had contact with were polite and efficient. The roofer himself, Dean, worked hard in sometimes trying conditions. He explained what he had done each day and always cleaned up before leaving at the end of the day. I am full of admiration of his work ethic and the result. Well done all
Josef Breinstampf
2021-02-25
Roof Makeover Specialist have done an excellent job in restoring my cement tile roof. A rating of 10 out of 10 goes to Ben for his hard work, eye for detail and exceptional workmanship. After having some bad experiences with other companies, I would highly recommend them to anyone who needs their roof repaired. Josef, Greensborough
boys at roof makeover have done a fantastic job , no complaints on any aspect of their work , hi pressure clean roof, re-bed and re-point , sealer applied, then 2 coats prem resin applied , of roof all washed down after cleaning and blown down before any paint or sealer applied , this is very important to get a top finish , gutters cleaned , any broken or cracked tiles replaced , spare tiles painted and left for spares , no mess left anywhere , neighbours drive way cleaned even though no mess [ just in case] each and every 1 of their employees were courteous, easy to talk to , Dave trade supervisor was readily available for any questions i had about the process or concerns , must give a special mention to sunny who done the re- pointing and spraying , very meticulous and very nice person , every one i dealt with from them were excellant , including Nathan and Daniel . many thanks guys top job , cheers steve
allwyn nazareth
2021-02-16
The entire team was very professional during the course off the project. Daniel initially inspected the site and provided his expertise on the way forward. Nathan was very proactive and meticulous keeping me well informed about the different stages of the project which was very helpful. Finally the team who were at the site were very professional and carried out the job as per my expectations. After the completion of the job they performed a thorough clean at the property . In summary the entire team has been very professional and would recommend them to anyone who wishes to have their roof works to be done.
Richard Potucek
2021-02-12
Our service was a complete roof restoration. It was performed with professional care and thorough method. Thanks to the company managers and Luke Harvey and Kyle who performed the work. We were kept informed always from start to end of the job. We always had complete confidence and were not let down. We are very happy with the job and the price. Higly recommend. Top quality workmanship. Thanks guys. Advice. Don't settle for a cheap quote. You will regret it..cheap quotes will not cover materials .inferior job as result. eg. Watered down paint and not replacing all tiles. Not rebidding thoroughly. No undercoat. That's why we paid good money for a great job with a solid 10 year warranty.
We are very happy with their service. It is such a pleasure to find professionals who take pride in their skill especially Aaron. Strongly recommend. Once again thank you boiz.
nikhitha philip
2021-01-06
Very impressed with the way they have done our roof. Kept us informed daily with an update which was very helpful as we were at our work during the day. Very informative in their approach as well. Glad to see, people take pride in their profession.
Krystle Fernandez
2020-12-20
We had a full roof restoration of our home in Seabrook and it has knocked 20 years off the property! Daniel, Nathan and the Team at Roof Makeover Specialist went the extra mile to ensure we were happy with the finished product. Thank you.
Aaron Arokiaraj
2020-11-25
Quick and professional. Good communication Able to follow up and complete job with no need for reminders.
Don't Be A Victim of A

Roof Restoration Scam
Here are 7 Key questions you must ask when hiring a Roof Restoration company in Melbourne.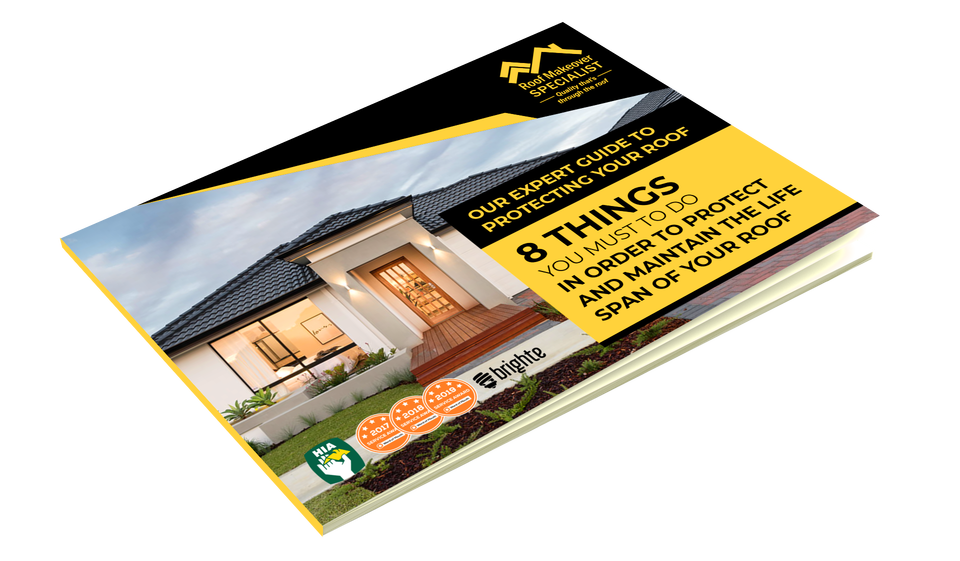 Avoid Costly Roof Repairs With These
8 Tips
Want to avoid leaks and keep your roof in tip top shape for years to come? Check out our expert guide to protecting your roof. Inside, you'll discover 8 things you must do to protect the lifespan of your roof, PLUS 4 questions every homeowner must ask before hiring a roofing company. Click below to grab your FREE copy!
Roof Jobs We Have Completed
When it comes to roof restoration in Melbourne, our local family-run
roofing company is second to none.
Our Unrivalled
TRIPLE GUARANTEE

, that average Roof Restoration companies can't match!
We're so confident in the quality of our work and materials that we're willing to put our money where our mouth is
Forget about a roof that cracks, blisters, and peels in a matter of months. Our exclusive Certified Premium Resin is made in Melbourne for Melbourne homes and guaranteed to last 10 years!
You'll get the prompt, professional service you deserve or we'll make it right. Our licensed, trained, full-time roofers fix leaks right the first time, and that's a promise.
When we're finished, you're guaranteed to have the best-looking, leak-free roof on the block. We treat your home as if it were our own and back up all our work with a 10-year warranty.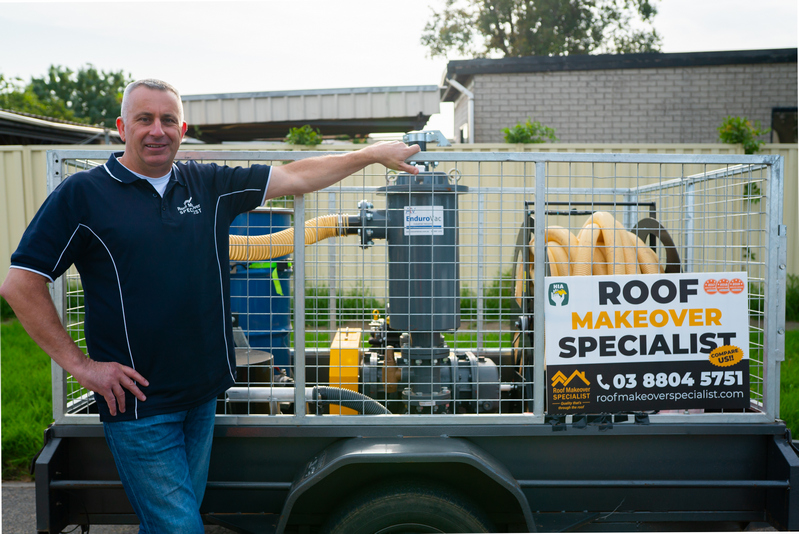 Need Roof Repairs Or Restoration?
Book Your 21-Point Roof Inspection With Confidence
Does your roof look chipped or faded? Signs of leaks? Claim your FREE 21-Point Roof Inspection (normally $180) today.
While most roofers just want to hand you a quote and close the job, we take a different, more informed approach. Our roof restoration specialists will come to your property, examine your entire roofing system – ridges, valley, tiles, and gutters – for any signs of issues, and even take pictures so there's zero doubt. Finally, we'll create a detailed report and action plan and sit down with you to go over the whole process so that you can make an informed decision you feel good about. There's absolutely no cost and no pressure. This is simply how we prefer to do business.
Sound fair? Click below to claim your 21-Point Roof Inspection today.
We Could Tell You How Experienced, Prompt, & Professional We Are, But We'd Rather
Let Them Tell You..
Melbourne Based. Australian Family Owned and Operated. Locally Trusted.
Ready to take the first, free step to restoring your roof and your peace of mind? Call today or book in your no cost, no obligation 21-Point Roof Inspection. We're more than happy to help.
HAVE YOU SEEN OUR CAR AROUND?

Photograph the car anywhere, attach the time and place and receive a 20% discount on your restoration….T n C's apply
We serve all Melbourne Metro Region
Let's Talk
About Your Roof

Makeover!
Cracks? Leaks? Questions? We're here to help. Contact us today for a fast response.