Emergency Roof Repairs Melbourne
Get Leaks Fixed Fast With Hassle-Free
& Affordable Roof Repair Services
Leaking Roof? Call Now for 5-Star Emergency Roof Repair Services or
Book Your Free 21-Point Roof Inspection!
Over a Hundred 5-Star Reviews Online
Wonderful job! From Daniel's quotation, Nathan's coordination to Sunny and Raj's great work! They put plastic wraps along safety rails just to avoid any sprays to neighbour's house, neighbour highly appreciated it! Especially thanks for Dave's work, front valley in my house had designed issue causing leaking, Dave spent a day to re-do it, kept coming back to check any further leaks after roof washing and heavy rain. After whole job was done, he popped up when I contacted for small issues (tiles not on proper position), never complained Thanks so much RMS!
Legends 🤩 Such a pleasure to find professionals who take pride in their skill, trade and service delivery. The results speak for itself, and our restored roof is now the envy of the court. Daniel, Nathan and crew were a delight to deal with throughout, and I can't recommend their services highly enough. True value for money. Don't bother looking elsewhere - these legends are the real deal.
Just got roof and gutters done by the team at roof makeover specialists. Really pleased with the results looks amazing,Dean spent 4 days to make shore everything was perfect. Very professional
We had the team from Roof Makeover Specialist clean, repair and respray our roof last week. They were all spot-on punctual, polite and professional (a rare thing these days!). Nathan kept us informed at every stage, and Sunny & Raj were so hard-working, considerate and made the effort to create as little mess as possible. They did a very neat job and our roof looks great, thanks RMS.
We wish to thank Daniel, James and the team at RMS for our recent roof restoration. James worked tirelessly to revive a tired looking, lichen covered tile roof and now everything is nicely aligned, securely bedded and painted a new colour and looks as good as new. Thank you RMS!
Gillian McDonnell
2021-03-20
Aaron spent three days restoring our roof and we are very pleased with the result. He was friendly, honest and hardworking and completed the job to a high standard. I'm happy to recommend them for terracotta roof restoration.
We had Nathan and the team restore my parents roof 3 years ago, and it still looks like new. We knew when the time came for our roof we would come back to Roof Makeover Specialists. Again we are thrilled with the finished product. From our initial inspection by Nathan, to the work completed by Sunny and Raj. The team are professional, punctual and courteous. Cannot recommend them highly enough. Thank you guys!
We have just had our roof restored this week, with these guys. From the inspection to quoting to the completion of the job the guys were real professionals. Communication everyday from Nathan - I knew what was being done each day and what to expect the next day. Dean was fantastic, hard working, friendly and has superb workmanship. We are extremely happy with the job done. Amazing workmanship and good old fashioned service. Superb job, A++++. Thanks roof makeover Specialist's. I will definitely be recommending you to all my family and friends.
Although a little sceptical at first, I believe we made the right decision. Ask any roof restorer and they will tell you that a colorbond roof is difficult to repaint...properly. Our tin roof was badly faded, but the Roof Makeover Specialist tradesman (Sonny) not only do a brilliant job in restoring the roof to it's former glory, he was also punctual, polite and always professional. He ensured that there was no overspray on the clear roofing sheets of our adjoining verandah as well as the front gables and at the end of the day he removed all rubbish from the site. I wish more tradies were like him. Only time will test the product, but for now the look of the house from the street has been transformed and I am looking forward to seeing an updated satellite photo where it will finally match the roof colour of our verandah and carport. Thanks.
Very professional team - from start to finish. They give regular update on every step of the process. We are very happy with the result. All staff (sales, roofer, railer, painter, inspector) were all courteous and friendly. Would highly recommend.
Roof Repairs Done Right The First Time
For leaking roof repairs done right the first time, turn to Roof Makeover Specialist, the award-winning local roofers with over 15 years of experience.
See Why 100% of Customers Recommend Roof Makeover Specialist...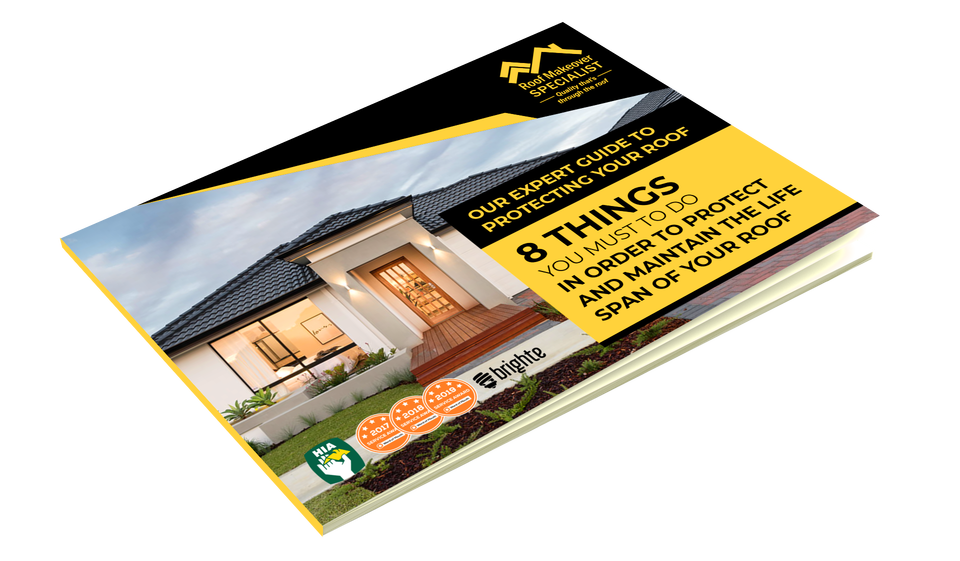 Avoid Costly Roof Repairs With These
8 Tips
Want to avoid leaks and keep your roof in tip top shape for years to come? Check out our expert guide to protecting your roof. Inside, you'll discover 8 things you must do to protect the lifespan of your roof, PLUS 4 questions every homeowner must ask before hiring a roofing company. Click below to grab your FREE copy!
Ready to Take the First Step to Transforming Your Roof?
Don't Put Off Important Repairs
Book Your FREE 21-Point Roof Inspection Today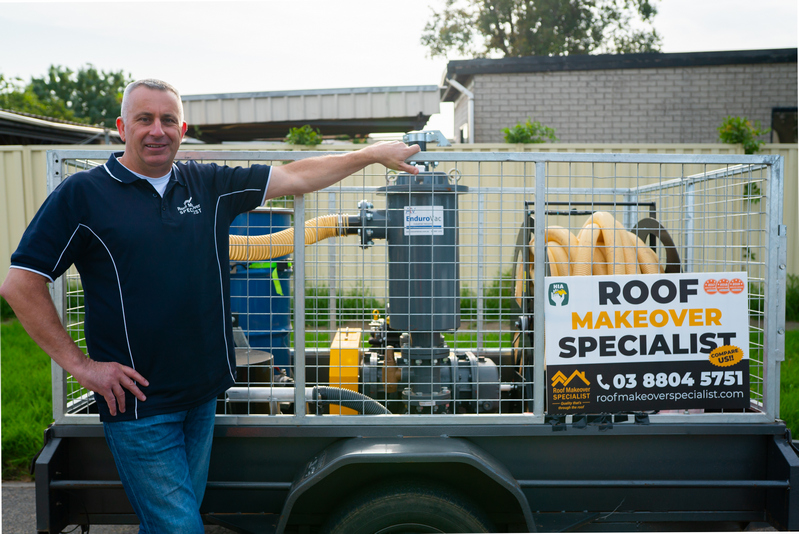 Leaking roof? Don't stress.
Daniel here with Roof Makeover Specialist, Melbourne's local award-winning roofers. A leaky roof can cause costly damage. That's why I'd like to offer you a FREE 21-Point Roof Inspection to help you get your roof fixed fast.
During your free 21-Point Roof Inspection (normally $180), I'll come to your home, examine the entire roofing system, and take pictures of any issues I find so you can see for yourself what's really going on. Then I'll provide you with a detailed report, action plan, and upfront quote on the spot or within 24 hours so that you can make an informed decision.
There's absolutely no cost. However, there is one catch: We have a limited number of slots available each month. So click below or call today to claim yours. I look forward to helping you repair your roof hassle-free!
You're Protected By My Personal TRIPLE Guarantee
Forget about a roof that cracks, blisters, and peels in a matter of months. Our exclusive Certified Premium Resin is made in Melbourne for Melbourne homes and guaranteed to last 10 years!
You'll get the prompt, professional service you deserve or we'll make it right. Our licensed, trained, full-time roofers fix leaks right the first time, and that's a promise.
When we're finished, you're guaranteed to have the best-looking, leak-free roof on the block. We treat your home as if it were our own and back up all our work with a 10-year warranty.
Let Us Take Care Of Your Leaking Roof With Zero Hassle, Stress, or Surprises
Call Now for Emergency Roof Repair Services in Melbourne or Book Your FREE 21-Point Roof Inspection & On-the-Spot Quote Today:
Check Out These Recent Roof Transformations!
We Could Tell You How Experienced, Prompt, & Professional We Are, But We'd Rather
Let Them Tell You..
Certified Partners & Members
Let's Talk
About Your Roof

Makeover!
Cracks? Leaks? Questions? We're here to help. Contact us today for a fast response.