Emergency Roof Repairs Melbourne
Get Leaks Fixed Fast With Hassle-Free
& Affordable Roof Repair Services
Leaking Roof? Call Now for 5-Star Emergency Roof Repair Services or
Book Your Free 21-Point Roof Inspection!
Over a Hundred 5-Star Reviews Online
We recently had our roof renovated by Roof Makeover Specialist and are more than happy with the service we received. Due to inclement weather conditions work was stalled but Nathan kept in contact with me regularly to assure me that as soon as the weather cleared, the work would be completed.True to his word, as soon as the weather improved the job was completed. Great work to Nathan and the crew.
Roof Makeover Specialist repaired and restored our old terracotta roof and it looks great. Honest appraisal and excellent communication from start to finish. Thanks Daniel, Nathan and the team. Will recommend to family and friends.
I'm a very happy customer, the roof looks brand new again. Thanks for your professional service.
I have recently had a full roof restoration from the 'Roof Makeover Specialist'. I found the initial consultant, professional, courteous, and receptive to any questions I asked. The subsequent work was executed in a timely and dedicated manner. The result is very pleasing indeed.
They did a good job and was done on time. The roof looks great and im happy with it.
We had a complete roof restoration with RMS. Our first contact was with Daniel, where he assessed our roof and explained problem areas that needed attention. Drawing up the contract was quick and easy, and works began roughly around the time that was scheduled. When the actual work began Nathan was our point of contact. Prior to any work taking place Nathan would notify us a day/ a couple of days in advance, and would go through the planned works for the day. After each day of work he would touch base with us to provide relevant updates. Overall a positive experience with RMS, the frequent communication and updates proved to be very helpful as it allowed the contractors to do what they needed whilst giving us peace of mind. Thank you RMS!
Pierre Barelier
2020-07-23
Very pleased with the end result, updated us throughout the process and prompt to respond to any questions. Would have no hesitation in recommending "Roof Makeover Specialists".
My partner and I have nothing but good things to say about this business. Daniel visited and was friendly and informative about the whole process. Nathan kept in touch with my partner during the Makeover and the team that worked on the roof ,despite the noise of working on the roof i didn't hear loud voices or anything offensive. Great job, top notch. Will be recommending them to our friends
Daniel who provided the initial consultation provided detailed information regarding the Roof Restoration process. He was extremely helpful and provide much needed advice relating to the renovations. He was honest and very professional. Nathan kept me up to date constantly with each stage of the job. The onsite team were friendly and demonstrated excellent communication and skills, not just with me, but with my neighbors. I am extremely satisfied with my new roof restoration. I highly recommend Roof Makeover specialist. Rachael Connor - Altona
Georgina Louise
2020-07-09
Roof Makeover Specialists were excellent. Not only did they do a high quality job, from start to finish they clearly communicated the process of the work and the timeframe. They went above and beyond to send me detailed messages about the stages of work, what was required from my end and ensured that I understood. They offer a smooth process with exceptional quality.
Roof Repairs Done Right The First Time
For leaking roof repairs done right the first time, turn to Roof Makeover Specialist, the award-winning local roofers with over 15 years of experience.
See Why 100% of Customers Recommend Roof Makeover Specialist...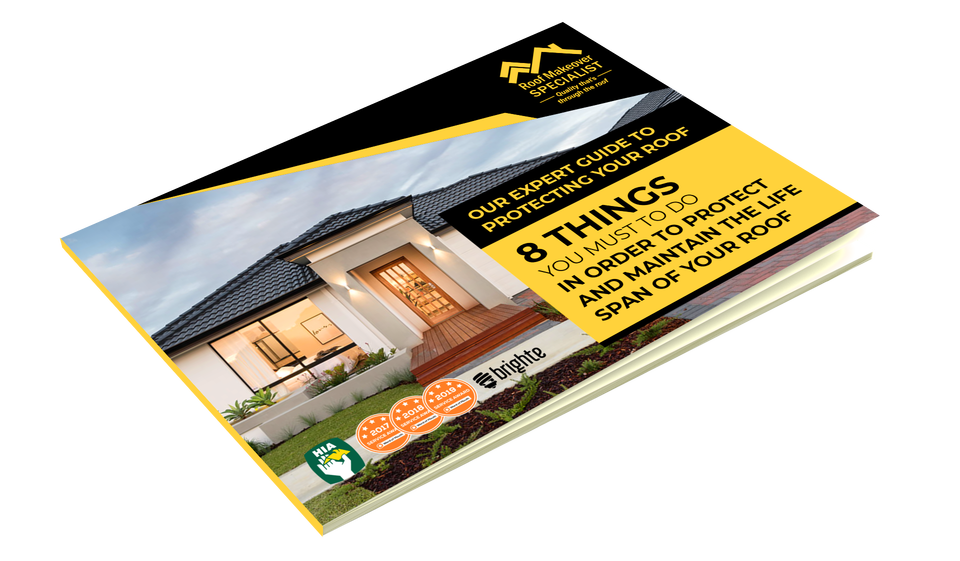 Avoid Costly Roof Repairs With These
8 Tips
Want to avoid leaks and keep your roof in tip top shape for years to come? Check out our expert guide to protecting your roof. Inside, you'll discover 8 things you must do to protect the lifespan of your roof, PLUS 4 questions every homeowner must ask before hiring a roofing company. Click below to grab your FREE copy!
Ready to Take the First Step to Transforming Your Roof?
Don't Put Off Important Repairs
Book Your FREE 21-Point Roof Inspection Today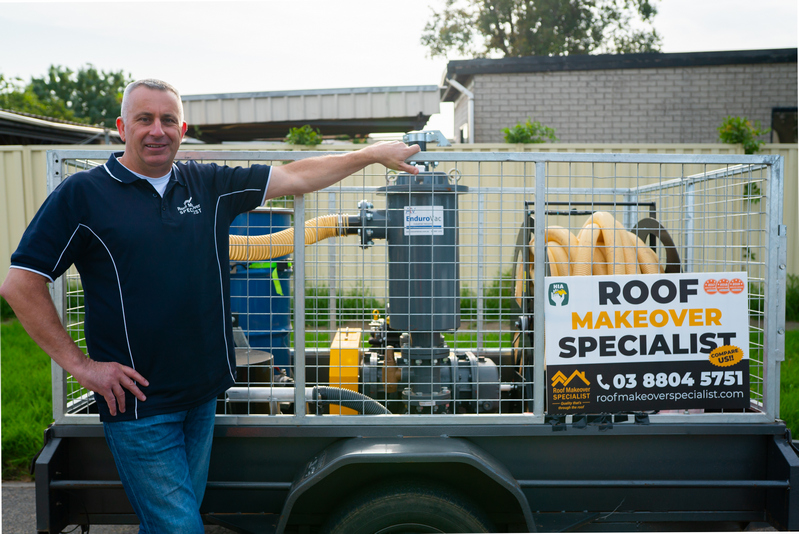 Leaking roof? Don't stress.
Daniel here with Roof Makeover Specialist, Melbourne's local award-winning roofers. A leaky roof can cause costly damage. That's why I'd like to offer you a FREE 21-Point Roof Inspection to help you get your roof fixed fast.
During your free 21-Point Roof Inspection (normally $180), I'll come to your home, examine the entire roofing system, and take pictures of any issues I find so you can see for yourself what's really going on. Then I'll provide you with a detailed report, action plan, and upfront quote on the spot or within 24 hours so that you can make an informed decision.
There's absolutely no cost. However, there is one catch: We have a limited number of slots available each month. So click below or call today to claim yours. I look forward to helping you repair your roof hassle-free!
You're Protected By My Personal TRIPLE Guarantee
Forget about a roof that cracks, blisters, and peels in a matter of months. Our exclusive Certified Premium Resin is made in Melbourne for Melbourne homes and guaranteed to last 10 years!
You'll get the prompt, professional service you deserve or we'll make it right. Our licensed, trained, full-time roofers fix leaks right the first time, and that's a promise.
When we're finished, you're guaranteed to have the best-looking, leak-free roof on the block. We treat your home as if it were our own and back up all our work with a 10-year warranty.
Let Us Take Care Of Your Leaking Roof With Zero Hassle, Stress, or Surprises
Call Now for Emergency Roof Repair Services in Melbourne or Book Your FREE 21-Point Roof Inspection & On-the-Spot Quote Today:
Check Out These Recent Roof Transformations!
We Could Tell You How Experienced, Prompt, & Professional We Are, But We'd Rather
Let Them Tell You..
Certified Partners & Members
Let's Talk
About Your Roof

Makeover!
Cracks? Leaks? Questions? We're here to help. Contact us today for a fast response.