Looking to get Cheap Roof Restoration Services in Melbourne? Get it here!
I get calls almost every day from clients who ask me, if we can do a full Roof Restoration Melbourne for a set amount (usually under $1800.00), without even knowing the size or condition of the roof. I don't blame customers as they are bombarded with road signs and lamb post signs that say Roof Painting Melbourne or Roof Restoration Melbourne for a set price of $1500 – $1800.00. Which makes clients believe that is what an actual roof restoration cost is in Melbourne, which is far from the truth. We have been doing this for many years now and know all the tricks dodgy roofers use in order to cut their cost and fool innocent homeowners of their hard-earned money.
Notice how usually these roof restoration businesses don't have a website, no business name, etc, they say they give you a warranty, however, I can guarantee you that if you try calling them (on their pre-paid mobile number) in a year time, the number will be disconnected – the so-called warranty doesn't even mean anything. They change numbers often to avoid follow up calls from disgruntled clients and council calls for illegal advertising.
It sounds like a great idea, a full roof restoration in Melbourne for $1500.00, make your roof look new, make it watertight, etc, however, common sense would prevail and wonder how they are able to offer a Full Roof Restoration for half the price of the majority of other companies that you might have called?
"If you think it's expensive to hire a professional to do the job, wait until you hire an amateur"
We have seen so many dodgy roof restorations in our time and feel sorry for the clients who have been ripped off. Usually, these jobs only last between 8-12 months before you will notice the paint starting to peel and fade drastically.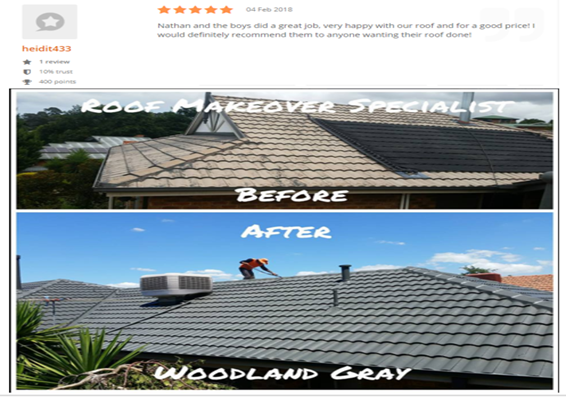 This is how usually Cheap Roof Restoration Companies in Melbourne are able to save time and money:
They do a quick wash job in 1-2 hours, to someone who is not in the industry this might look ok, but to do a thorough and proper wash job, it takes anywhere between 4-6hours+. The roof has to be cleaned properly and thoroughly in order for the paint to stick and last a long time.
The patch over only the poor pointing sections, instead of roof repointing the whole roof properly. We have seen so many jobs, where they will repoint the section that a client can see from the front of the house but the inside ridges are not repointed, as they know the client will not climb the roof to check.
Cheap watered down paint – good quality roof paint costs money, and this is another way for roofers to cut cost on. They normally will bring pre-opened paint buckets that are mixed with water. Again, this will look nice when completed, however, this will peel off in a few months.
In order to have a good job done, you need to use experienced and qualified Roofers, use high-quality materials, and use the right equipment.
High-Quality Roofing Equipment is important: having the right roofing equipment can be the difference between high quality and a cheap finish. However, these are costly expenses, that dodgy roofers avoid. A good quality pressure washer and paint machine cost in excess of $10,000.00+ each. We use some of the best roofing equipment available in the market such as Graco, spraychief, etc.
Roof Restoration is not a project you do every few years – if done properly and thoroughly, you do it once and don't have to think about it for an entire lifetime!
Tips to avoid being ripped off by Cheap Roof Restoration Companies in Melbourne:
Get multiple quotes
Ask to see reviews and jobs you have done nearby
Check for Insurance
Ask for what materials that are being used
Call us today for a Free Roof Inspection on 0481 812 124 or email: roofmakeoverspecialist@gmail.com
www.Roofmakeoverspecialist.com – Melbourne's Roof Restoration Experts @roofmakeoverspecialist